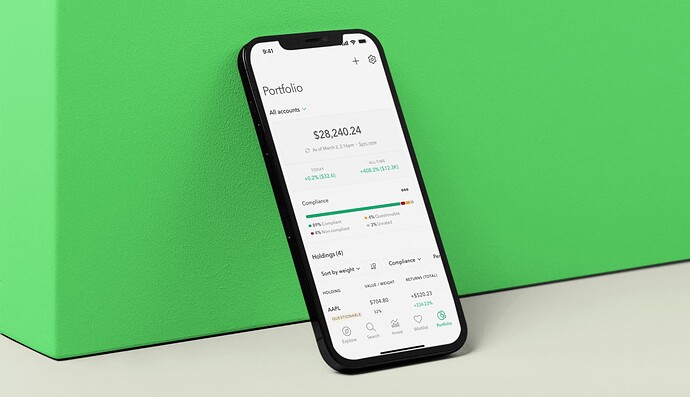 Our portfolio tracker is finally here. With this feature, you can link your existing brokerage account directly to Zoya to unlock insights and monitor your portfolio for shariah compliance on the go. It's clean, simple, and allows you to sync multiple accounts so you always have a complete picture of your investments.
Features:
Connect and sync multiple brokerage account types (personal brokerage, 401k, Roth IRA, custodial, etc.)
Track market value and performance
View an aggregate summary of your portfolio's overall shariah compliance
Enable fund look-through to scan holdings inside of mutual funds and ETFs
Monitor holdings to get alerts for changes in shariah compliance
This new feature will be rolled out over the next few days to Zoya Pro customers in the US while other countries will come later. The decision to limit to US only came after realizing (and accepting) that Plaid, our data aggregation service, won't be a stable enough source for us (even just in the US). We knew we would need to add additional data sources at some point to expand to other countries—however, as we onboarded more users, it became clear that Plaid just doesn't have the coverage they say they do, the quality of their data is inconsistent at best and there are stability issues that constantly come up. That said, we're already working on this and should have much better institution coverage/support in the next few weeks.
As always, we'd love your feedback and suggestions on how we can improve this feature and make it more useful for you.
Thanks for being part of the journey!