Sold my RE4 position at 0.445 for 56% return in 5 months alhamdullilah.
Opened some smaller positions. All commodity stocks - true stores of wealth.
Half a position in RE4 at 0.515

Quarter of a position in SGML (Lithium) at 13.00

Quarter of a position in NPK (Fertilizer ) at 7.85 Continuing to look at oil and coal.
@Frhaann can you rename this thread to "UmarAs SmallCap Picks" or something like that. Have realised these aren't all penny stocks that's all.
Bought quarter of a position in GFP (Lumber, Canada) at 2.40
Bought quarter of a position in CEIX at 36.41. Coal stock.
Going to buy another quarter of another stock tomorrow iA.
Bought quarter of a position in WHC at 4.56. Coal stock.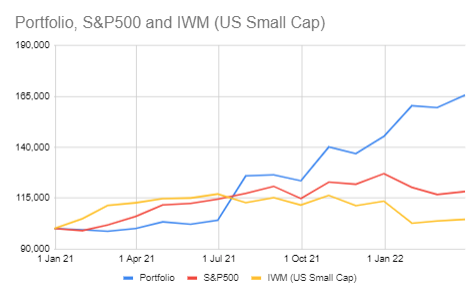 End March Position:
Portfolio: 166
S&P500: 118
IWM (US SmallCap): 105
YTD Performance:
Portfolio: +14%
S&P500: -7%
IWM: -8%
All transactions listed above, on date bought/sold.
Bought some oil and gas stocks in the past few days. Had to sell half of ADF.
Bought equal portions of Serica, SGY.TO (Surge) and VET (Vermillion) with the cash in the pf.
As mentioned, this isn't financial advice. Do your own DD and consult your financial advisor.

Sold CEIX at 46.50 for 28% return in 21 days
Sold CAPD for 100 for 60% return in 14 months
Portfolio rose in April and so far is up in May as well alhamdullilah.
Overall portfolio is up 70% since Jan21.
Sold MBR for 316. Including dividends, +10% return since June.
Despite all the carnage, +10% YTD, and +60% since 1 Jan 2021 alhamdullilah.
Currently 41% of the portfolio is in cash, which is entirely intentional.
Sold my ADF for 69.2p. Bought at 58p so that's +19%. Happy with that in this market.
Overall +16% YTD
+68% since 1 Jan 2021.
Cash position 52%. Will look to probably invest 10% of that and retain the rest for now in a falling market.
Bought AEP.L (ANGLO-EASTERN PLANTATIONS) for 854p
It is a Palm Oil business…generating lots of cash at spot price.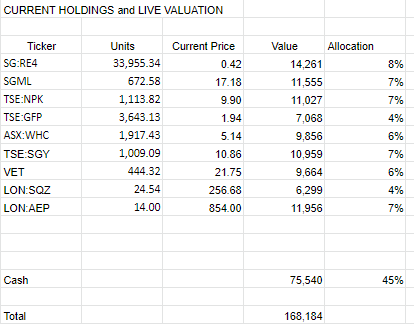 Selling GFP at 1.48 and SQZ at 292. Losses of 38% and 29% respectively.
YTD pf perf +9%.
2021 performance +45%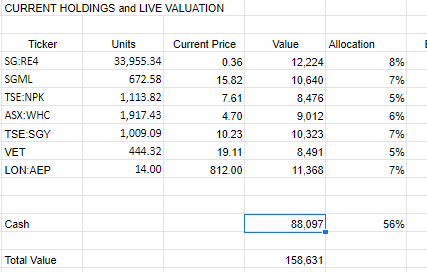 Note the 56% cash. Cash is the only hedge in this market environment.
Am expecting the stock market to decline significantly from here, i.e. I don't think this is the bottom. But…I could be wrong who knows.